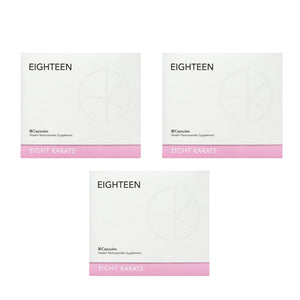 Eight Karats Eighteen Vitaskin Nutricosmetic Beauty Supplement - Bundle of 3
New Eight Karats Eighteen Vitaskin Nutricosmetic Supplement V2
Fresh new stocks with long expiry of 2025
A multi functional supplement that boosts body immunity, speeds up pimples healing process and prevent further breakout, lighten scar marks, provides UV protection, whitening, delay aging, maintain youthfulness, moisturise skin and boost collagen production. A yummy and chewable berry minty flavour supplement you will definitely love! 
Benefits of NEW Eighteen Vitaskin
✔ Skin lightening
✔ Lightens freckles and pigmentations
✔ Boosts skin moisture
✔ Evens out skin tone
✔ Boosts radiance
✔ Protects skin against UV rays
✔ Reduce acne and pimples
✔ Lightens acne marks and scars
✔ Boost collagen production
✔ Boost immunity
✔ Anti-glycation
✔ Helps to ease hangover
✔ Helps to alleviate autoimmune diseases
✔ Visible results in 2-4 weeks*
Is it safe to eat?

🚨

✅ MFDS approved.
✅ COA cleared.
✅ Samsung Insurance coverage.
✅ 💯 Safe and results-proven!

 
Special Promotion
1 Box = $49
3 Boxes - $124.95 (Save 15%)
10 Boxes - $367.50 (Save 25%)
1 box consists of 30 soft-gels 
Directions

Intensive - Consume 2 soft-gels daily during the day ( 1 box can last 15 days)
Maintenance - Consume 1 soft-gel daily during the day (1 box can last 30 days)
Intensive whitening - Consume up to 4 soft-gels daily for speedy skin lightening effect.

** P.S - Results may varies according to individual **  
Customer's Testimonial