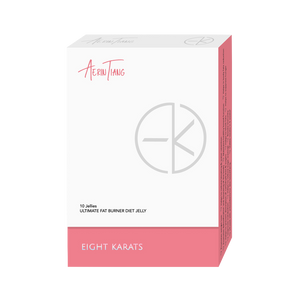 New Eight Karats Lychee Oolong Ultimate Fat Burner Diet Jelly
NEW & Improved Eight Karats Lychee Oolong Ultimate Fat Burner Diet Jelly
FRESH IN STOCKS! 
Introducing our special edition Lychee Oolong diet jelly - the ultimate solution for achieving your slimming goals effortlessly! Backed by research and featuring patented ingredients, our jelly boasts 12 Slimbeautox Techniques to help you achieve fats reduction & weight-loss, ease constipation, and achieve skin beautification naturally and conveniently. Say goodbye to waiting times before meals or exercise - our jelly is designed to speed up (3 times more effective) the slimming and blocking process.
12 SLIMBEAUTOX IN 1 ACTIVATION
♡Promotes weight loss.
♡Helps to reduce bloating & water retention.
♡Promotes detoxification and cleansing of the body.
♡Maintains healthy bowel function.
♡Helps in body fats reduction.
♡Helps to prevent absorption of carbohydrates & sugars.
♡Helps to block fats.
♡Helps to suppress hunger.
♡Improves metabolism.
♡Helps to reduce sugar cravings.
♡Boosts immunity.
♡Infused with antioxidants for skin beautifying.
Special Promotion
1 Box = $49
Mix Any 3 Boxes of Eight Karats / Klarity Products = Save 15%
Mix Any 10 Boxes of Eight Karats / Klarity Products = Save 25% 
Discounts will be automated & reflect on checkout page
INGREDIENT LIST 
Garcinia Cambogia Extract, Nicotinamide, Vitamin B1 Hydrocholoride, Vitamin B2, Vitamin B6 Hydrochloride, Cacti-nea, Morosil, Organic Green Apple Extract, Malt Extract Powder, Hibiscus Extract, Aloe Vera Gel, Guarana Extract, Organic Lemon Balm Extract, Vitamin A, Vitamin C, Vitamin D3, Vitamin E, Vitamin K, Fructo-oligosaccharide, Lychee Extract, White Grape Concentrate, Indigestible Maltodextrin, Cyclodextrin Syrup, Lychee Flavor, Gum-based Mixture, Xylitol, Anhydrous Citric Acid, Enzymatically Modified Stevia, Oolong Extract, Calcium Lactate, Carrageenan, Scutellaria Baicalensis Extract, Gamma-cyclodextrin, Sucralose, Grapefruit Seed Extract & Purified Water.
Best Time To Consume EK Jelly
The best time to consume this diet jelly is before meal(s) or exercise.
[Precautions]
Please check the ingredients if you are allergic to certain ingredients. Children and pregnant women should avoid consumption. If you have liver/kidney/heart disease, allergies, or asthma, consult a specialist before consumption.
Customer's Review
Our Satisfied Customers