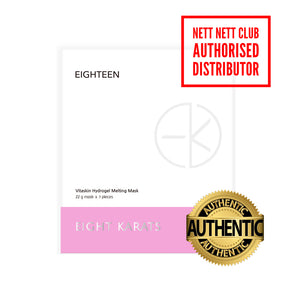 Eight Karats Eighteen Vitaskin Hydrogel Melting Mask
Eight Karats EIGHTEEN Vitaskin Hydrogel Melting Mask
One Vitaskin Hydrogel Melting Mask = One month's usage of serum!
6 in 1 benefits
Brightening




Moisturising

 


Anti acne




Firming




Strengthen skin immunity




Relieves sun burn

 



Special Promotion 
1 Box = 3 Sheets of Hydrogel Melting Mask
1 Box - $29
3 Boxes - $73.95 (Save 15%)
10 Boxes - $217.50 (Save 25%)
How to use?
1. Cleanse your face
2. Remove white films from the hydrogel mask
3. Place hydrogel mask on your face and leave it on for 15 to 30 mins
4. Remove the mask and you are done
[Cautions]
Keep out of reach of children.
Avoid using on irritated or sensitive skin.
Avoid contact with the eyes.
Avoid storing under direct sunlight or storage with high temperature.
In cases of irritation, discontinue use and contact a physician.
Use only as directed.