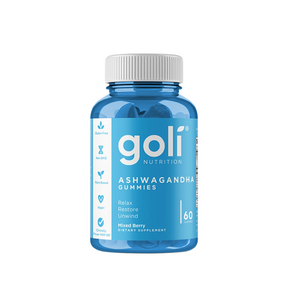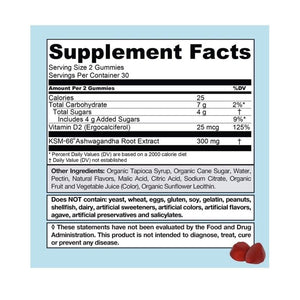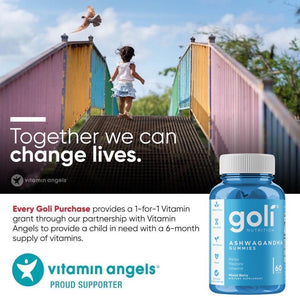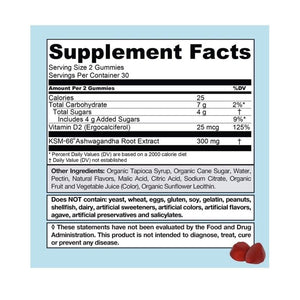 Goli Ashwagandha Gummy
Goli Ashwagandha Gummy
Made with the World's Best Ashwagandha
KSM-66 is USDA Organic and has the highest-concentration of full-spectrum ashwagandha root extract on the market today. Being highly bioavailable, it retains all the components of the herb in its original balance - so you get the benefits of the complete root, just as mother nature intended.
With KSM-66, you can feel confident that you're getting a potent and safe product. It's the ashwagandha extract with the most extensive set of research and clinical studies behind it as well the highest number of certifications and safety assessments while being sustainably produced.
Amazing Benefits 
Promotes Calmness and

REDUCES STRESS
Supports Muscle Strength and

POST-EXERCISE RECOVERY
Helps Endurance and

PHYSICAL PERFORMANCE
Supports a HEALTHY WEIGHT
Supports IMMUNE HEALTH
Enhances Memory & COGNITION 
Suggested use : 2 gummies, twice daily
TOGETHER WE CAN CHANGE LIVES
Less than a $1 a day, you can maintain good health and do a good deed! 
Malnutrition is the #1 cause of preventable child deaths. That's why Goli is proud to support the work of Vitamin Angels, who continually strive to reduce malnutrition in children by giving them access to lifesaving vitamins and minerals. Every purchase made provides a 1-for-1 Vitamin grant through our partnership with Vitamin Angels to provide a child in need with a 6-month supply of vitamins