Susenji Slimming Bundle
Susenji Slimming Bundle 
SUSENJI SINGAPORE AUTHORISED DISTRIBUTOR

Product Content
Each box of MOFA+ contains 20 sachets x 15g
Each box of SHAKE contains 16 sachets x 35g
Each box of GOLD BODY MASSAGE GEL contains 130ml
Each box of OHH! NANA contains 15 sachets x 1.5g
Each box of Ollie contains 25 sachets x 3g
Susenji Ollie Carb Cutter
FRESH NEW STOCKS! 
𝐒𝐨𝐮𝐭𝐡𝐞𝐚𝐬𝐭 𝐀𝐬𝐢𝐚'𝐬 𝐅𝐢𝐫𝐬𝐭 𝐍𝐞𝐰 𝐅𝐨𝐫𝐦𝐮𝐥𝐚𝐭𝐢𝐨𝐧 𝐟𝐨𝐫 𝐇𝐞𝐚𝐥𝐭𝐡𝐲 𝐅𝐚𝐭 𝐑𝐞𝐝𝐮𝐜𝐭𝐢𝐨𝐧
No added preservatives & artificial colouring
No artificial sweeteners
Vegan-friendly & Cruelty-free
BENEFITS OF SUSENJI OLLIE
Enhance fats burning

Reduce body fat

Provide energy, 2x Burning Effect

Convenient to consume

Reduce belly fats and Improve metabolism

Improve body shape

Reawaken metabolism
Product Content 
1 Box  = 25 Sachets
How to consume?

Simply consume directly from sachet 10 mins before any meals
The easiest, most convenient slimming product ever!
We have self tested for 10 days and lost 2 - 6 kg without skipping any meals! 

If you have been trying to lose weight without any progress, try OLLIE!
For best results - combine Susenji Shake + MOFA+ you will definitely achieve the optimal weight you have dream of having! 
SUSENJI SHAKE

Major in plant-based protein, high protein, meal replacement, comprehensive nutrition TRI-P factor
MAIN INGREDIENTS
Pea Protein, Isolated Soy Protein, Dark Chocolate Powder, Oat, Multivitamin & Multimineral
+ BENEFITS OF SUSENJI SHAKE
Boost metabolism
Promotes fat metabolism & fat burning
Increase muscle mass & reduce fat
Controls body weight
Provides energy & satiety
Reduce appetite & calories absorption
SUSENJI MOFA+
Safe & Remarkable Effects With New Ingredients: Cooltox NPE Natural Plant Extract & High Antioxidant Levelsipsum. It effectively helps to regulate body's pH level, decreases acidity in blood, eliminates free radicals in the body, and able to cool down body's heatiness to enhance body detoxification process. 
SGS Certified, Halal Certified
No added preservatives & artificial colouring
No artificial sweeteners
Vegan-friendly & Cruelty-free
MAIN INGREDIENTS
Maltodextrin, Natural Fresh Orange Powder, Passion Fruit Powder, Psyllium Husk, Fructo-Oligosaccharide, Cooltox, Soluble Apple Fiber & Digestive Enzyme (Amylase, Protease, Lipase). Contains enzyme as permitted food conditioner. 
+ BENEFITS OF SUSENJI MOFA+
Balance blood pH level
Decrease acidity in blood
Promote bowel movement
Improve blood lipids
Improve digestive issues
Improve metabolism and eliminate edema
Reduce irritability and aid weight loss
reduce body's heatiness to promote detoxification
Customer's Testimonial







SUSENJI OHH! NANA
SUSENJI NANA IS OUR NEW BEAUTY ORAL SUPPLEMENT WHICH PROMOTES WHITENING, BRIGHTENING, AND RESTORES FAIRNESS. CLINICALLY TESTED & PROVEN, SUSENJI NANA REJUVENATES YOUR SKIN TO IMPROVE THE CONDITION & TONE IN JUST 30 DAYS!
Clinically tested & proven after taking Susenji NANA for 30 days:
Brightening ability increased by up to 168%
Wrinkle resistance increased by up to 153%
Whitening ability increased by up to 180%
Main Ingredients (100% Natural Plant Extracts)
Lemon Powder
Maqui Powder
Yeast Ceramide
Torula Yeast
Saberry
Grape Seed Extract

This product is suitable for men & women aged 12 years old and above, vegetarians, pregnant & breastfeeding mothers.
+ BENEFITS OF SUSENJI OHH! NANA 
Whiten skin & lighten dark spots
Improves skin tone
Moisturised & glowing skin
Improve large pores
Delay ageing
Enhance skin elasticity
Anti-UV
Improve skin complexion
Skin firming
Repair skin cells
Lighten dark spots & pigmentation
Reduce wrinkles & fine lines
Lighten scars
Anti-acne
Anti-ageing skin
CUSTOMER'S TESTIMONIAL
SUSENJI GOLD BODY MASSAGE GEL
The new and improved version of Susenji GOLD contains 24K gold foil and built-in medical-grade steel rollers to improve absorption and fat-burning effect. Our Susenji GOLD is formulated in France, combined with nanotechnology from Japan, and produced in Malaysia. 
+ BENEFITS OF SUSENJI GOLD 
Fat Decomposition
Fat Burning
Revitalises skin's metabolism
Lightening stretch marks and cellulite
Skin Firming
Eliminate Edema
Skin Whitening and Brightening
Massage and stimulating acupoints
Ingredients: 
Aqua
Propylene Glycol
Betaine
Peg-10 Dimethicone
Hydroxyethylcellulose
Hydrogenated Castor Oil
Tetrasodium Edta
Panthenol 
Vanillyl Butyl Ether
Caffeine
Butylene Glycol
Acetly
Carnitine
Carbomer
Phenoxyethanol
Triethanolamine
Hydrolyzed Collagen
Sodium Hyaluronate
Arome
Gold Foil
Instructions: 
- Apply directly on body parts (chin, thigh, tummy, arms) 
- Apply twice a day for an ideal result
- Strictly for external use only

*Not recommended for pregnant women due to safety reasons as it may cause warm / itchy sensation after application.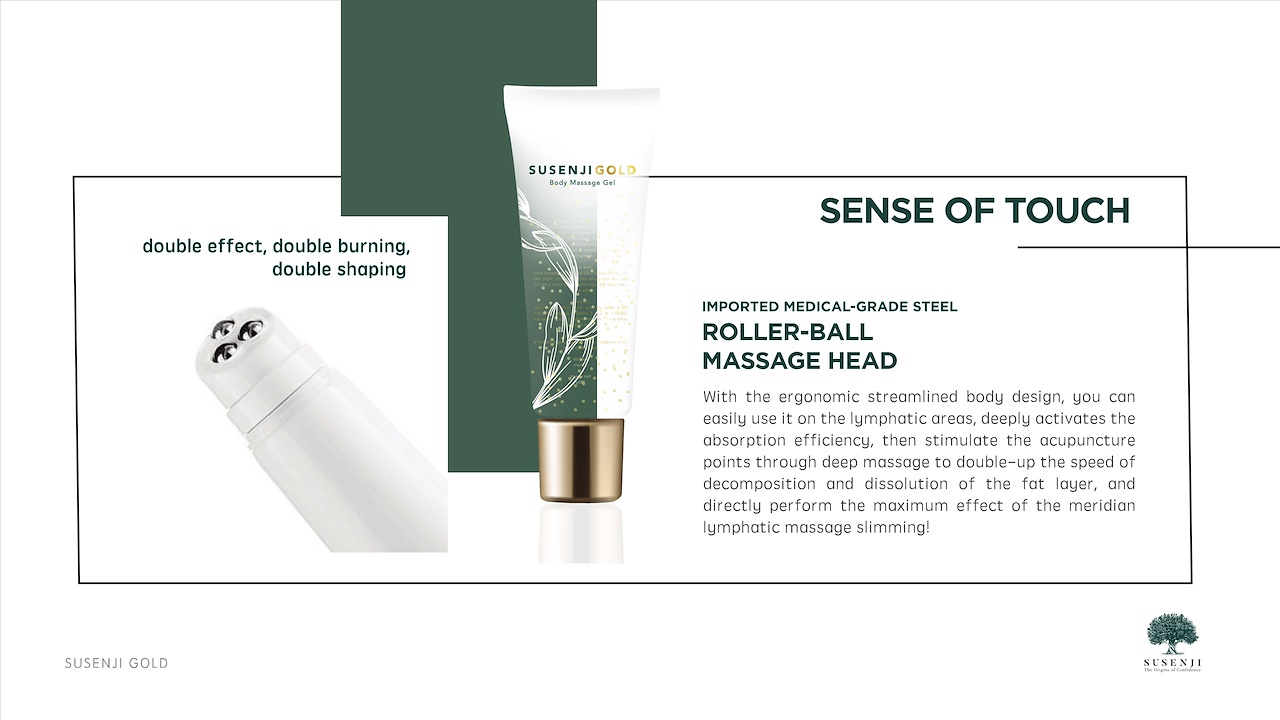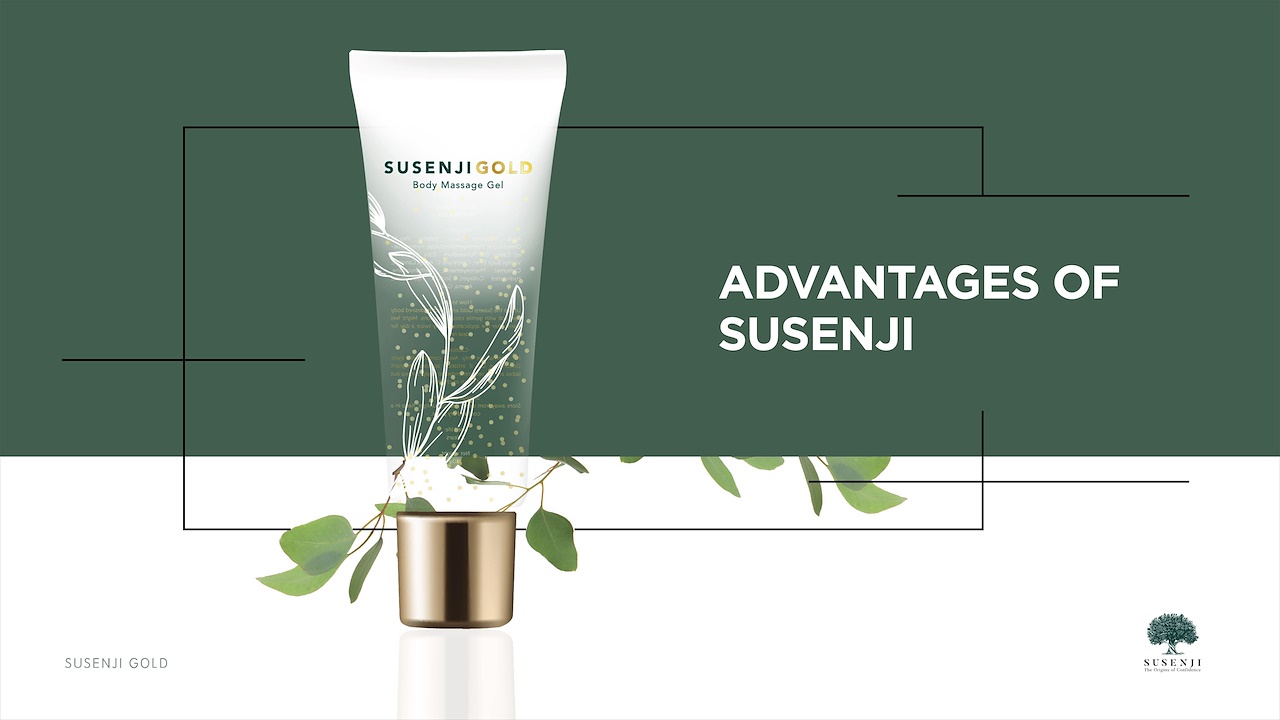 Customer's Testimonial