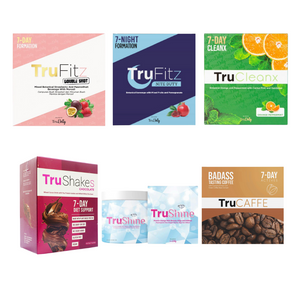 Trufitz Slimming Combo
TRUFITZ SLIMMING COMBO 

TruFitz Double Shot

Strawberry juice on the go for weight loss
U.P. $50/box
-> Promo: $25/Box!
Suitable for all gender 
16 years above 
Nursing friendly

Drink minimum 6-8 glass of water 
Slowly cut down meals portion 
Eat more fruits 

How to consume?
Consume 1 sachet TruFitz (35ml) before food. 
7 sachets per box

 Customer's Testimonials 




TruFitz Nite Duty 

✔ Burns Fat while you sleep!
✔ urbs your night appetite
✔ Gives you better sleep + Deep sleep
✔ Body detox out - next day
Try our new Night Fat Burner. First in Asia to produce a Night Fat Burner in liquid juice flavour! Burn extra calories while you sleep with our Trufitz Nite Duty.
Benefits

Burns Fat While you sleep it contains proven fat burning ingredients and metabolism boosters
Suppresses your appetite, so you don't wake up hungry - limits nightime food cravings
Promotes better REM and deep sleep cycle through melatonin
Helps to detox and improves bowel movement next day
Increases fat absorption & breakdown fats in food
How to consume?
1  Sachet before dinner/sleep. 
*Drink plenty of water to ensure adequate hydration*


TruShakes



Trushakes is a chocolate-flavoured meal replacement.
Chocolate flavour
Lose weight
Keeps you full
Lower sugar levels
Prevents fat absorption 
Directions: 1 sachet mix with 200ml of cold water or room temperature and shake well.

7 sachets per box

TruCAFFE


TruCaffe is a delicious Arabica Robusta flavoured coffee with a mixture of Guarana and Green Coffee that can help to lose your weight in 7 Days! 

Benefits of TruCaffe
Lose weight in 7 Days!

Burn fat 5x faster!

Energy booster 

Increases metabolism rate

Curbs appetite
Direction: Take 1 Sachet of TruCaffe and mix it with 100 or 150 ml of hot water and stir well.
7 sachets per box



TruCleanX



TruCleanx is an orange and mint leaf flavoured drink that works to remove toxins in the body and solve water retention
Main Ingredients
Cactus fruit- Increase body immunity
Dandelion- Solve Water Retention Problem
Apple Cider - Improve digestive system
Ginger- Reduces weight and helps with digestion
Green Apple- Removes toxins from the body
Benefits
-Solve Water Retention Problems
-Removes toxins from the body
-Increase body immunity
-Improve digestive system
-Reduce excessive weight
How to consume?
1 Sachet before breakfast or before bedtime.
If you are consuming TruFitz Double Shot, consume TruCleanx before bedtime
If you are consuming TruFitz Night Duty, consume TruCleanx before breakfast.

For best results, we recommend the following:
1 Fat Burner + TruCleanX
OR
1 Meal Replacement + TruCleanX
TruShine
TruShine is a pre-mixed orange drink that helps to brighten up skin tone up to 5x brighter, achieve soft, glowing, and radiant skin complexion.
Includes a variety of healthy ingredients for the skin such as Vitamin C and more

Benefits
Achieve radiant skin 

Lightens scars & pigmentation 5x faster

Treat acne 

Helps the formation of collagen in the body

Reduces wrinkles and fine lines
How to consume?
Take 2 scoops of TruShine and mix in 100ml of water in the morning. For maximum effect drink 2-3 liters of water daily.
1 tub of TruShine can last up to 2-3 weeks.
New Trufitz Triple Shot
Trufitz TripleSHOT is a dietary supplement containing Satiereal and Sinetrol that is effective in burning fat 5x faster, controlling appetite, and filling the stomach for more than 10 hours.
"5x MORE EFFECTIVE & POWERFUL INGREDIENTS"
-Real satire
-Sinetrol (NEW) 

-Morosil

-Psychic Husk
-Pumpkin
Benefits of Triple SHOT:
🍊Burns calories quickly
🍊 Burn stubborn fat

🍊 Prevents the absorption of carbs & sugar
🍊 Saturates the stomach for more than 10 hours

How to consume?
Drink 1 sachet of Trufitz TripleSHOT before breakfast or lunch. Take care of your diet and drink plenty of water for maximum effect.